August 2012
Monthly Newsletter

Top Story

ManageEngine Adds "IPFIX with Extensions" to Firewall Analyzer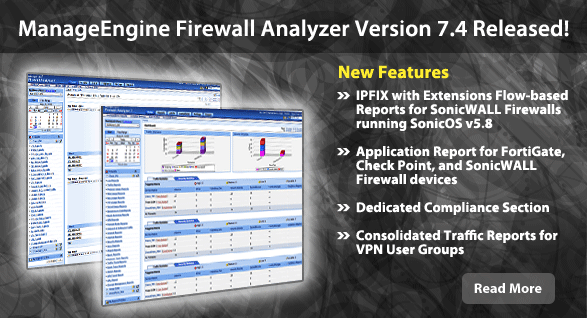 ManageEngine released the latest version of its Firewall Log and Configuration Monitoring Software - Firewall Analyzer with advanced functionality that facilitates effortless and effective network security monitoring.
Firewall Analyzer 7.4 - New Feature Highlights
IPFIX with Extensions Flow-based Reports: Firewall Analyzer supports IPFIX with Extensions Flow of the SonicWALL devices (running Sonic OS 5.8). It collects both Static flows and Dynamic flows from SonicWALL, then analyzes the received flows and generates a variety of network traffic and security reports.
Dedicated Compliance Section: A single-pane-of-glass console for configuring device rules, viewing firewall change management reports and alerts.
User-group VPN Reports: Provides VPN usage details for a group of users with details on number of hits, duration of usage, and total bytes of VPN traffic.
Application Reports for Check Point and SonicWALL: Previous version of Firewall Analyzer provided reports for applications (like Skype, Yahoo! Messenger, etc.) accessed through FortiGate firewalls alone. In this release, it has been extended to Check Point and SonicWALL devices.

Analyst Blogs
Dropbox hack unveils the absolute need for Password Managers!
In the aftermath of the data breach at Linkedin last month in which over 6.4 million hashed passwords were stolen, we had highlighted the implications of such password compromises in general.....

Video traffic: Inevitably intensive!
The human brain has different levels of stimulus to different media. The visual appeal always has a long-lasting impact on the human brain and that forms the basis of our quest for exploring increasing number of possibilities of bringing in video into the Enterprise network. It also the reason behind why the entire World is on a race to offer supreme levels of user experience particularly for applications that involve video.

---

© 2012. ManageEngine is a trademark of ZOHO Corp.
All other company and product names may be trademark of the respective companies with which they are associated.