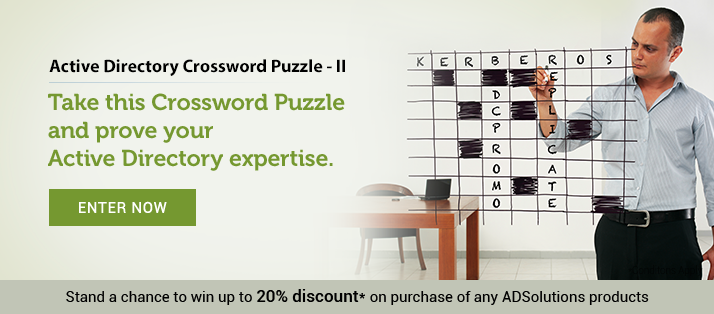 PRODUCT UPDATES
ADAudit Plus introduces 'Consolidated Audit Trail' a search based real-time reporting for Active Directory objects (user, group and computers). Type object name to instantly view the change summary and in a click drill-down for an in-depth analysis.
Exchange Reporter Plus Office 365 Mailbox Reports now show Hidden Mailboxes, Mailboxes with Delegates and Mailboxes with forwarding addresses. Latest additions to Public Folder category have reports on Client permissions and Administrative permissions. Room Mailbox Reports display Room Mailbox Usage status and usage history of users.
BLOG
Windows Service Account Finder and Reporter
Courtesy of Derek Melber, Active Directory MVP.

VIDEO ZONE

Security Baselines for Active Directory and Windows Servers

ANNOUNCEMENT
SysAdmin Day Contest Winners
# Mark Gilliland
# Dan Kepros
# Nilesh Kadam
CUSTOMER CASE STUDY
For MSVD, managing accounts in Active Directory is a breeze with ManageEngine ADManager Plus

WHITEPAPER
ADManager Plus Does What ADUC and PowerShell Can't
CUSTOMER QUOTE

| | | |
| --- | --- | --- |
| | Other options, were requiring a modification of the Active Directory schema, I liked that ADSelfService Plus did not. The ability to 'brand' the tool to our School was also important. | |

Robert Peterson,
Technical Support Manger, The Principia.
www.manageengine.com/adsolutions | adsolutions-support@manageengine.com
© Copyright 2013 ManageEngine, India. All rights reserved