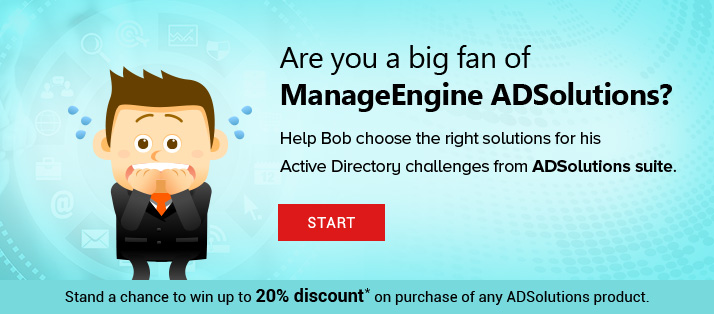 PRODUCT UPDATES
ADManager Plus now supports Windows Server 2016. With the latest release of ADManager Plus manage licenses in Office 365 effectively with OU filters and generate group member reports for your O365 environment. Also, manage and report on Active Directory objects with 'Multi-valued' custom attributes.
ADAudit Plus is now packed with an enhanced Account Lockout Analyzer that analyzes mobile phone logins/OWA for lockout reasons and a 'User Idle Time Calculation' report [beta version].
ADSelfService Plus can now push its server settings to mobile apps through the mobile push management settings right from the product console or using other 3rd party mobile management tools.
Exchange Reporter Plus offers an exclusive report to monitor the backups performed for each Exchange database. It also includes configurable alerts to be notified of the number of days elapsed since the last successful backup.
SharePoint Manager Plus is now safer with login via Active Directory credentials, in addition to the regular local authentication.
With FileAudit Plus, track and analyze every access, isolate files, get graphical insight into disk space utilization, use 'Threshold Based' alerts to detect attacks and more.

BLOG
Workflow Allows for Automation Verification and Correctness
by Derek Melber, Active Directory MVP.
VIDEO ZONE

Automating Active Directory Clean Up

CASE STUDY
Non-Invasive Active Directory Delegation: A Dream Come True For Eby Brown
| | | |
| --- | --- | --- |
| | The ADManager Plus software has made is VERY simple to delegate common, every days roles to the service desk while limiting their ability to ultimately "damage" our AD. Once this tool was deployed - AD was locked down and cleaned up, and I could rest easy! | |

Andrew Kramer,
Infrastructure Analyst, Eby-Brown.
www.manageengine.com/adsolutions | adsolutions-support@manageengine.com
© Copyright 2016 ManageEngine, India. All rights reserved
*View terms & conditions