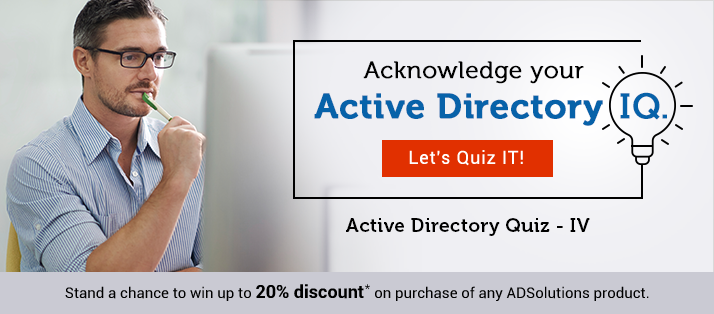 PRODUCT UPDATES
ADManager Plus beefs up security of the user logon process with two-factor authentication via Duo Security, Google Authenticator, and one time password (OTP). Furthermore, custom attributes are supported in Contacts management and reporting, and the list of supported languages now includes Spanish.
ADSelfService Plus now allows two-factor authentication to be configured based on OUs/groups and also provides an option to exclude smart card users from password/account expiration notifications.
AD360 introduces a notification center to alert users about low disk space, mailer server configuration status, service installation status, and other critical events, so they can take necessary action and avoid potential problems.
O365 Manager Plus comes with two new reports for easy mailbox license management. It now eliminates the need for generating each and every report by updating all the derived reports whenever the master report is generated, irrespective of the technician who generated it.
Exchange Reporter Plus now allows you to view complete details about the permissions assigned to mailbox folders. It also helps you discover all the inactive mailboxes in your organization based on the time that the last mail was received.
SharePoint Manager Plus now has a new and improved user interface with the option to sort and search report results based upon the report parameters.

ANNOUNCEMENT
January Contest Winners
# Jesse Siegrist
# John DeVeaux
# Kevin Miller

KNOWLEDGE BASE
Gauging Skype for Business Adoption with O365 Manager Plus
Enforce Granular Password Policies
BLOG
ManageEngine Soars with SIEM

VIDEO ZONE
Empower users with next-gen self-service password reset by Derek Melber

CASE STUDY
ADAudit Plus ensures Bank Of South Pacific has a clear view of their Windows Server & Netapp Filter Environment.
| | | |
| --- | --- | --- |
| | ADAudit Plus is a good web based and cost effective solution. We like the auditing option on NetApp Filer. Also, it has partially to do with our satisfaction with other products that ManageEngine has excelled in. | |

Ricky Chand,
Systems Engineer, Bank of South Pacific, Fiji.
www.manageengine.com/adsolutions | adsolutions-support@manageengine.com
© Copyright 2017 ManageEngine, India. All rights reserved
*View terms & conditions