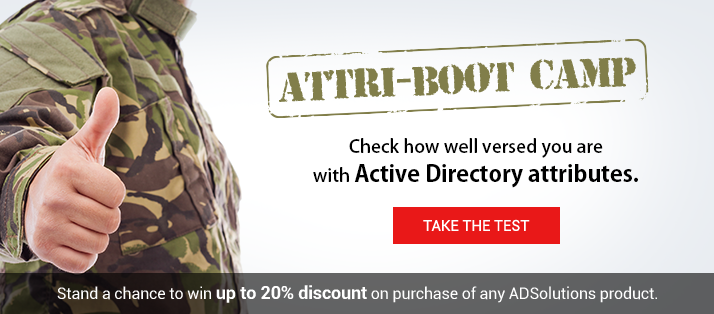 PRODUCT UPDATES
ADManager Plus now supports Skype for Business (Lync 2015); allows you to create, manage, and report on users in Skype. Additionally, ADManager Plus also allows you to manage (upload, modify, crop, and delete) Active Directory users' profile photos in bulk, as well as create or modify shared mailboxes in Exchange.
ADSelfService Plus has made password synchronization easier; you can now auto-link accounts between Active Directory, and other on-premise systems and cloud applications, based on the attribute of your choice. Furthermore, you can now use secondary (personal) mobile number and email address of users to send notifications.
Exchange Reporter Plus tracks movement and deletion of mails in Mails deleted or moved reports. Cmdlets Summary generates a list of the names and counts of all active PowerShell cmdlets. OWA Logon Failure identifies all failed logon attempts through OWA.

BLOG
Windows Active Directory Security Hardening:
Honeypot #1


by Derek Melber, Active Directory MVP.
VIDEO ZONE

Webinar - Monitoring Active Directory

CASE STUDY
Swizznet deploys ManageEngine ADSelfService Plus to effectively tackle password-related support tickets

TIPS & TRICKS
Setting limits for password reset and account unlock actions.
CUSTOMER QUOTE

| | | |
| --- | --- | --- |
| | I highly recommend ADAudit Plus. Now, I can easily monitor user logons, file deletions / modifications, changes in AD and export them as reports. The friendly UI and product support before and after-purchase are excellent. | |

Huseyin Akbaba,
Information Technologies, Rmk Marine
www.manageengine.com/adsolutions | adsolutions-support@manageengine.com
© Copyright 2015 ManageEngine, India. All rights reserved