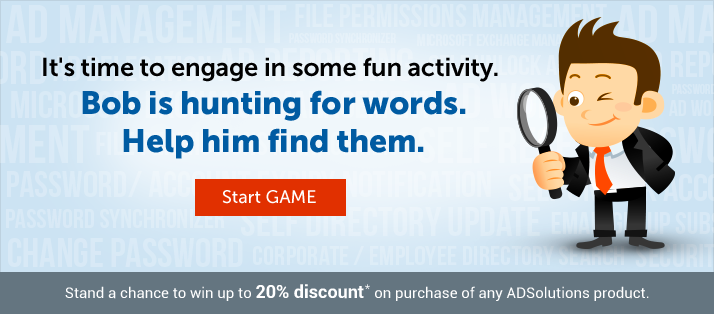 PRODUCT UPDATES
ADManager Plus allows customization of reports while exporting them (replace product logo, and set inline message). It also simplifies AD objects' group membership management with a predictive search to locate the desired groups; enables delegation of rights to modify only a single group, and only specific attributes of computer and groups. ​
AD360​ now features a centralized reporting section that gives you valuable insight into both on-premises Active Directory and Azure Active Directory.
ADSelfService Plus​ can now synchronize passwords in real time between two or more Active Directory domains even if the domains are in two different forests without any trust relationship.​
Exchange Reporter Plus extends support for Windows 10. It also allows OU-based discovery of the number of mailboxes present and their total size. ​
FileAudit Plus​ now helps you track Share & Secure permissions; and view properties of files/folders. ​
RecoveryManager Plus​​ now adds the ability to back up and restore VMWare virtual machines to its arsenal. ​ ​

ANNOUNCEMENT
Active Directory Quiz Contest Winners
# Bastiaan
# Muhammad
# Chris


KNOWLEDGE BASE
O365 Manager Plus : Cost Cutting with Effective License Management
BLOG
Showing hidden shares in ADAudit Plus​

VIDEO ZONE
Self Service Password Reset for Remote Users by Derek Melber ​

CASE STUDY
ADSelfService Plus helps TXP Corporation unleash Self-Service options to scale up employee productivity.​
| | | |
| --- | --- | --- |
| | ADSelfService Plus is a tool that we consider indispensable. It is the right tool for the job. Any company that relies on Active Directory authentication with password expiry will benefit from using it.​ | |

Chris Jackson​,
Systems Administrator, TXP Coporation. ​
www.manageengine.com/adsolutions | adsolutions-support@manageengine.com
© Copyright 2017 ManageEngine, India. All rights reserved
*View terms & conditions