| | |
| --- | --- |
| | ISSUE 7 | JUN 2014 |

NEWS

Letter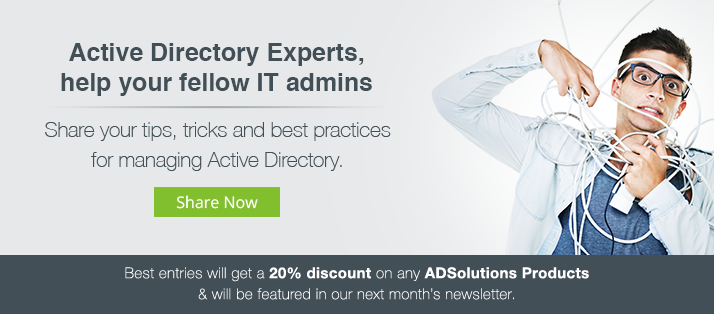 Product

Updates

ADManager Plus 6210 unveils an enhanced report scheduler featuring the 'column customization' option; you can now select only the specific columns required, while scheduling reports. It also ushers in support for using MSSQL as ADManager Plus's database.
ADSelfService Plus now supports Google Authenticator as one of the multi-factor authentication options to further secure the reset password/unlock account process.
Exchange Reporter Plus now supports Exchange Server 2013 SP1; handles all the changes made to log format in the latest update.
AD360 debuts its 64-bit version for better stability and memory management along with some major bug fixes to the SSL and license module.

Announcement

Winners of 'Most Wanted Feature' contest
Carl Haynes,
Lotterywest
Ahmed Mohamed,
Moelis & Company
Loren Nozot,
T3Media 

Blog

Domain Password Policies: Configuring and Auditing Correctly!
Whitepaper

User Life Cycle Management in Active Directory by Derek Melber, MVP

Video

Create users in mass in Active Directory ADManager Plus
Customer

Quote

| | | |
| --- | --- | --- |
| | We have a number of Mac users who are unable to change their password in AD directly from their computers. ADSelfService Plus solved that with a simple web page where they can perform all the same password tasks as our windows users. | |

Timothy Basham,
Systems Administrator, Marshall Associates Inc.
www.manageengine.com/adsolutions | adsolutions-support@manageengine.com
© Copyright 2014 ManageEngine, India. All rights reserved
Don't want to receive emails like this again? Simply unsubscribe