Integrating with ServiceNow
This guide will show you how to integrate ManageEngine Analytics Plus with ServiceNow. The advanced analytics platform seamlessly integrates with ServiceNow, allowing you to create intuitive reports and live dashboards for a high level view of your help desk, with the ability to drill down into specifics.
Highlights of ServiceNow Integration
Analytics Plus offers out-of-the-box analytics on Incident management. Get reports generated automatically with up-to-date data, and gain a complete overview from module specific dashboards. 
Prerequisites
You need to have administrator privileges to set up the integration.

The Restore Deleted Records plugin needs to be activated. Login to your ServiceNow application and using the Filter Navigator, navigate to Plugins under System Definition. Select the Restore Deleted Records plugin, verify the plugin details and click on the Activate/Upgrade to activate the plugin.

ServiceNow should be accessible from the server on which Analytics Plus is running. To verify this, try launching your ServiceNow web-client from the Analytics Plus server. 

ServiceNow and Analytics Plus servers should be running in the same time zone.
Steps to integrate
Step 1: Log into Analytics Plus and click on the ServiceNow tile under the Import your data section.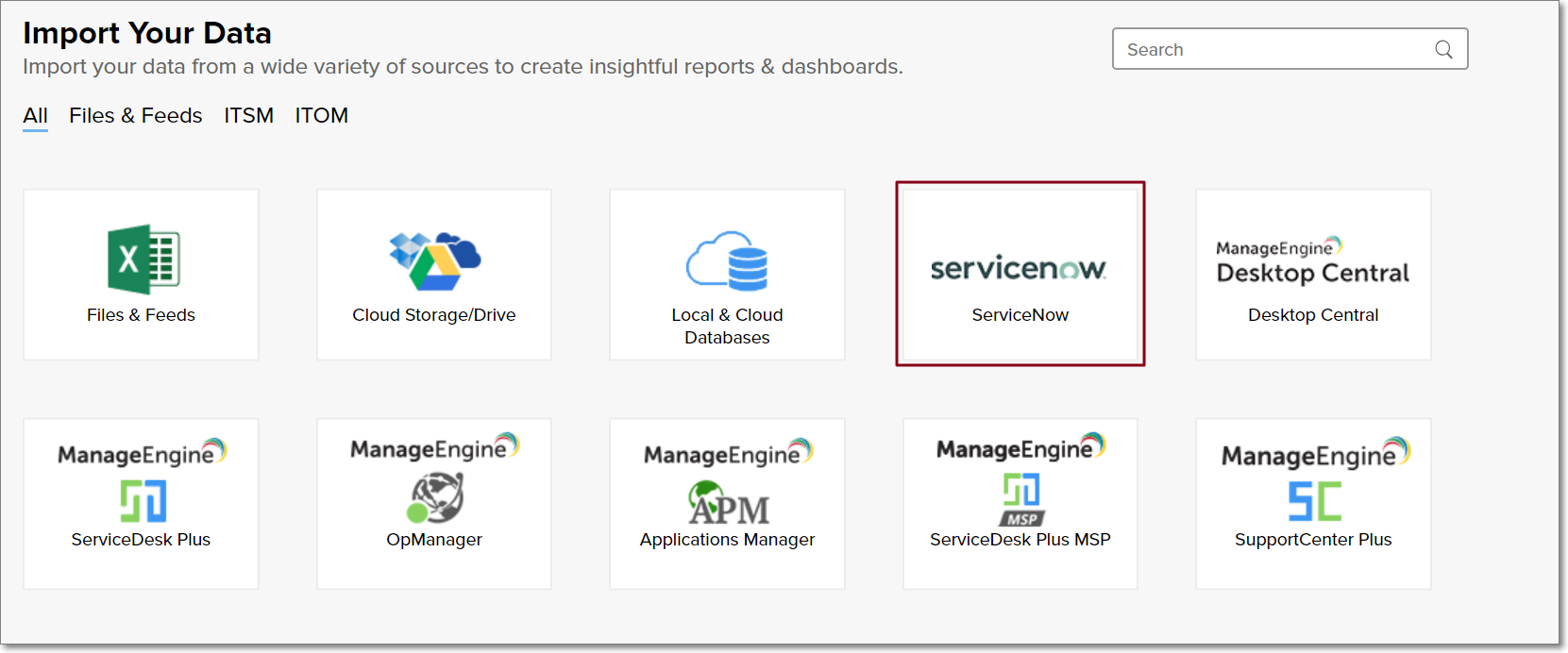 Step 2: In the pop-up screen:
Provide a name for the workspace.

Enter the ServiceNow web client URL. This is the web address you use to access ServiceNow.

Enter the ServiceNow instance username and password. The login details should be those of a user who has administrator privileges in ServiceNow.

Click Authenticate ServiceNow to proceed.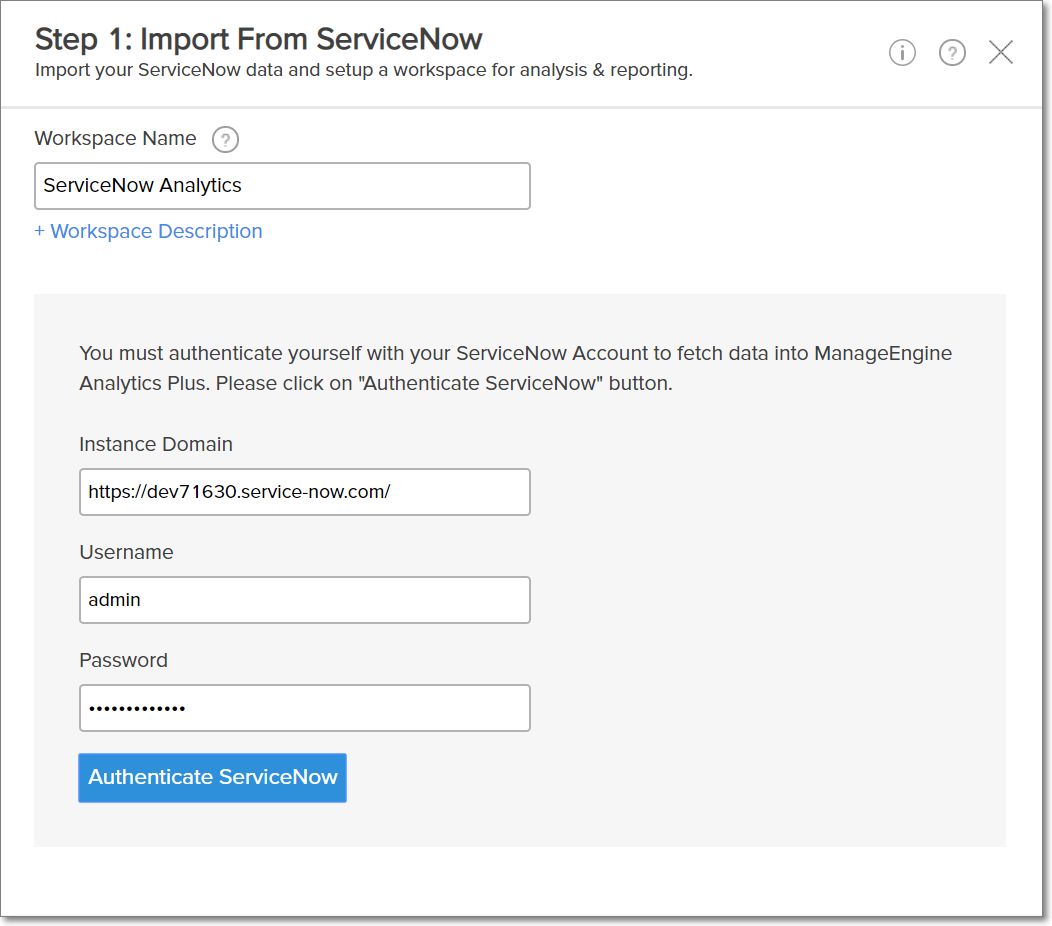 Note:
By clicking the Authenticate ServiceNow button, you agree to bring data from your ServiceNow application into ManageEngine Analytics Plus for advanced analysis and reporting.
Step 3: In the following screen:
Select the modules and fields you wish to import from ServiceNow.

Provide the data import schedule, select the time zone and click Create.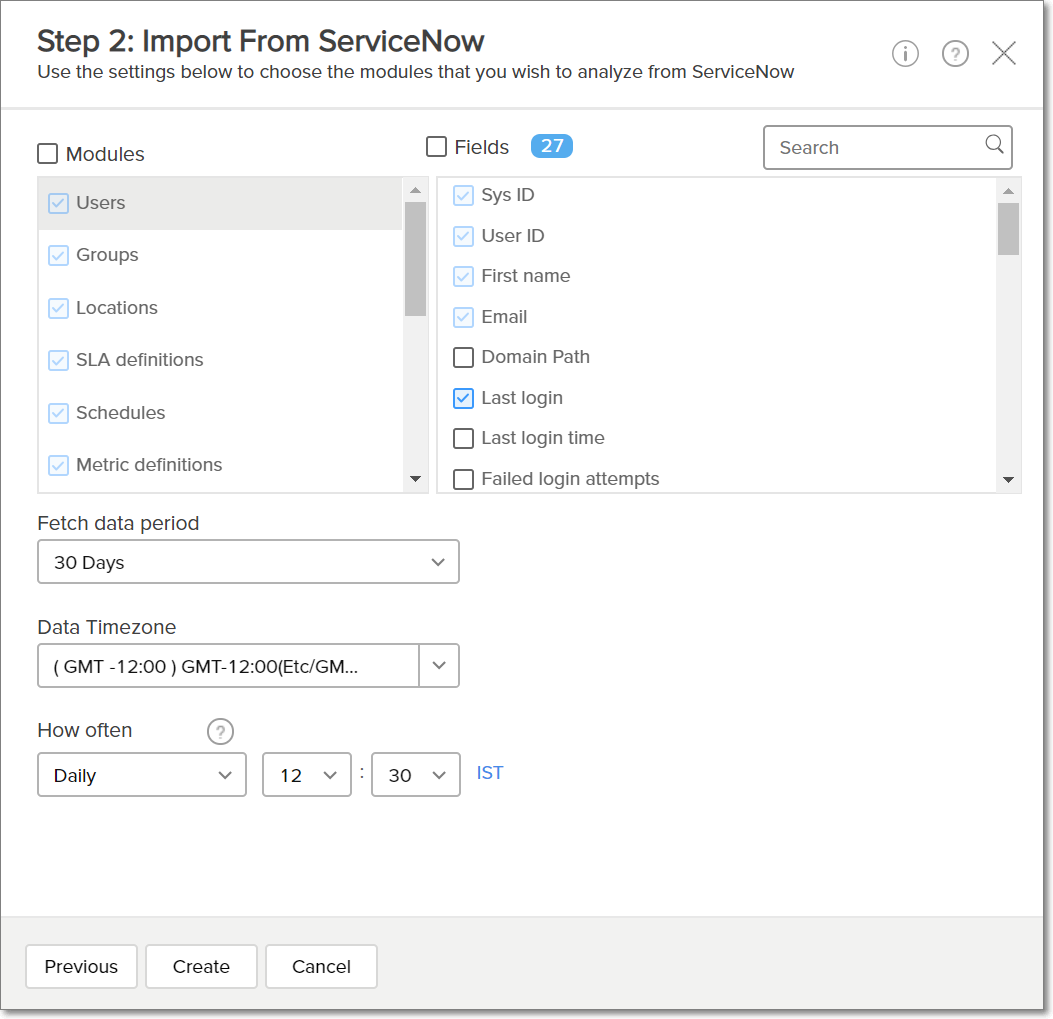 Step 4: On successful integration with ServiceNow, a workspace is created.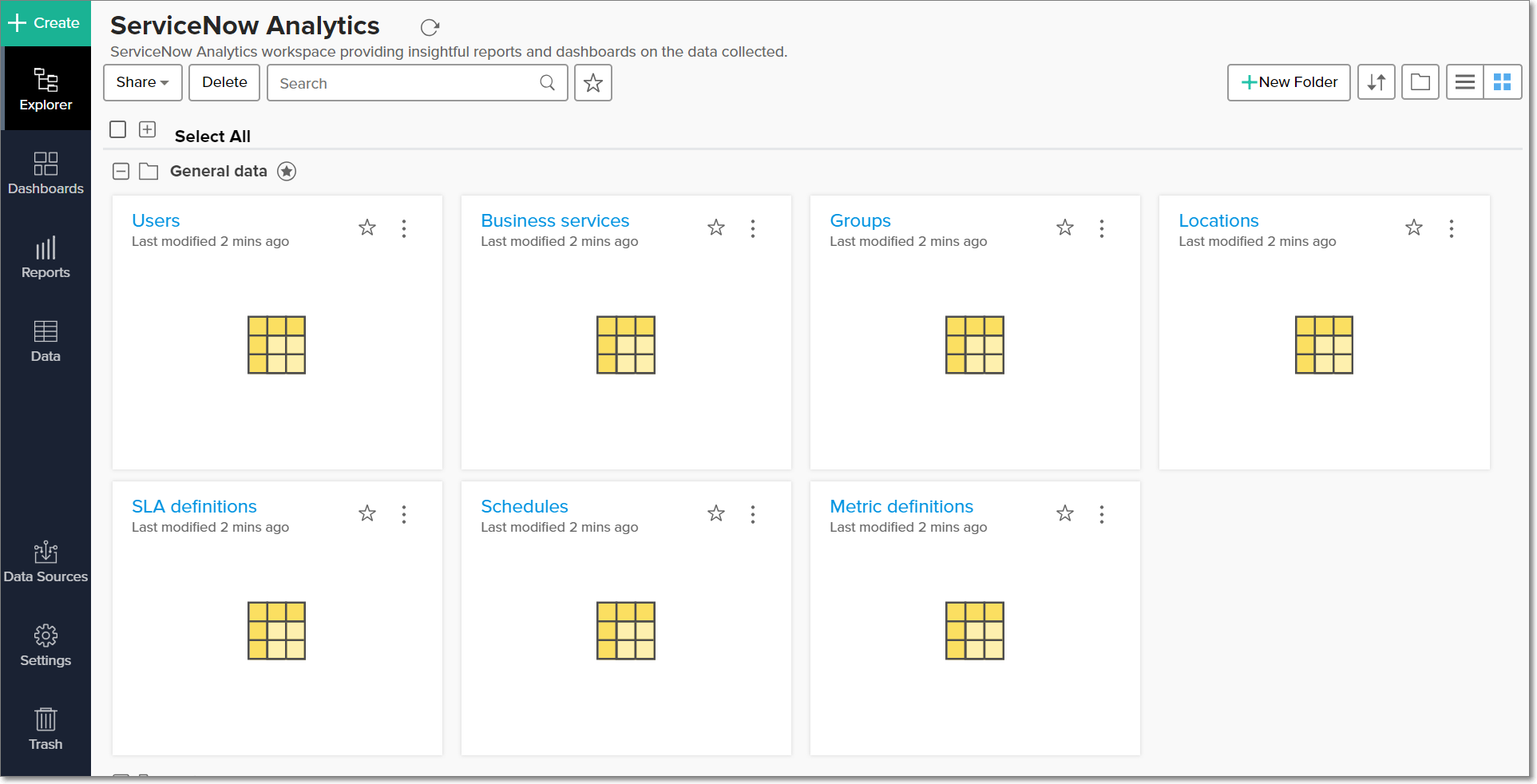 Settings
To edit the Integration Settings, select Data Sources -> ServiceNow from the side panel. 

The synchronization summary is displayed with the following data:
Last data sync status: Status of the most recent synchronization from ServiceNow.

Last data sync time: Time at which the most recent synchronization was completed.

Schedule: The frequency of data synchronization between Analytics Plus and ServiceNow.

Next Schedule time: Time at which the next data synchronization is scheduled to happen.

Manual Sync done: Number of times the data has been manually synchronized in a particular day.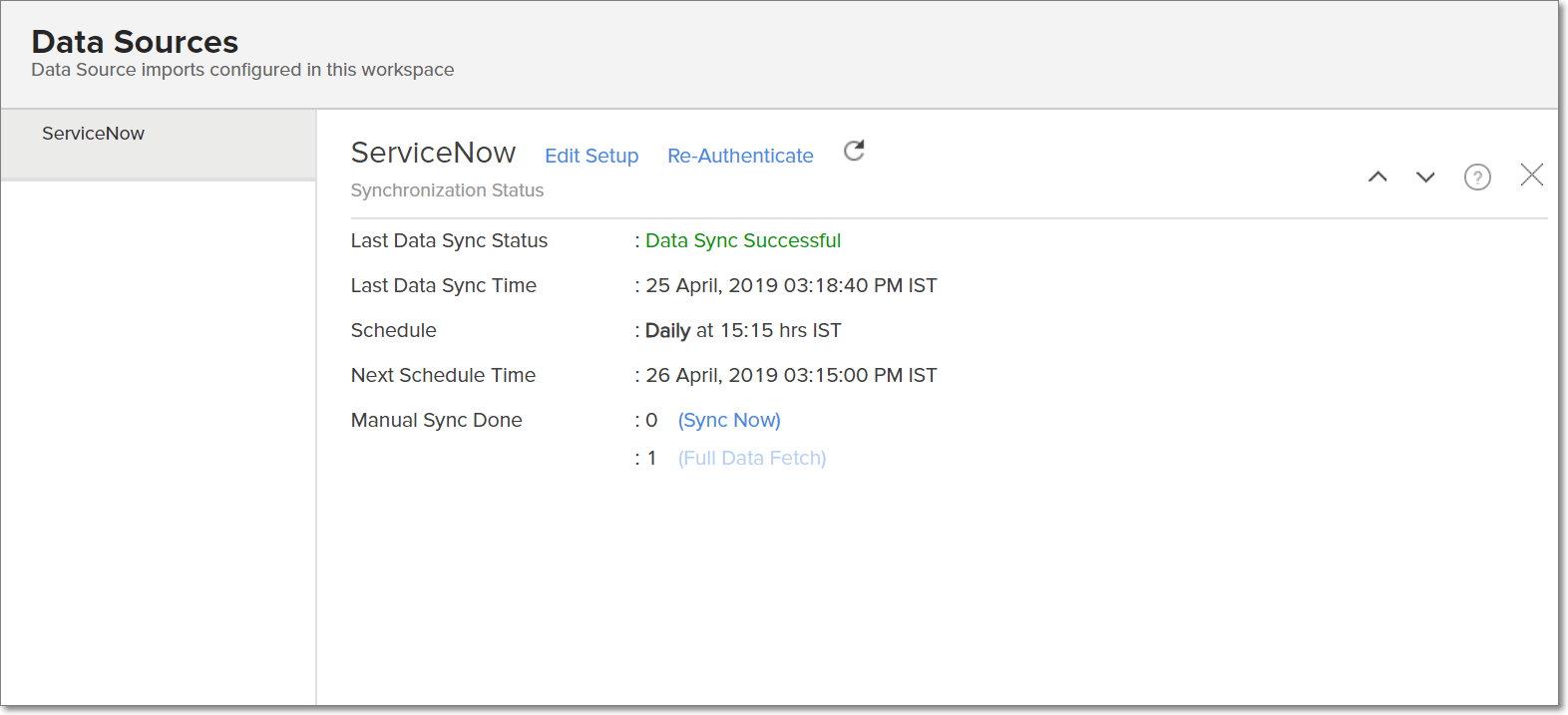 If the API key becomes invalid or if the ServiceNow server is moved to a different server, click Re-Authenticate to refresh the authentication keys.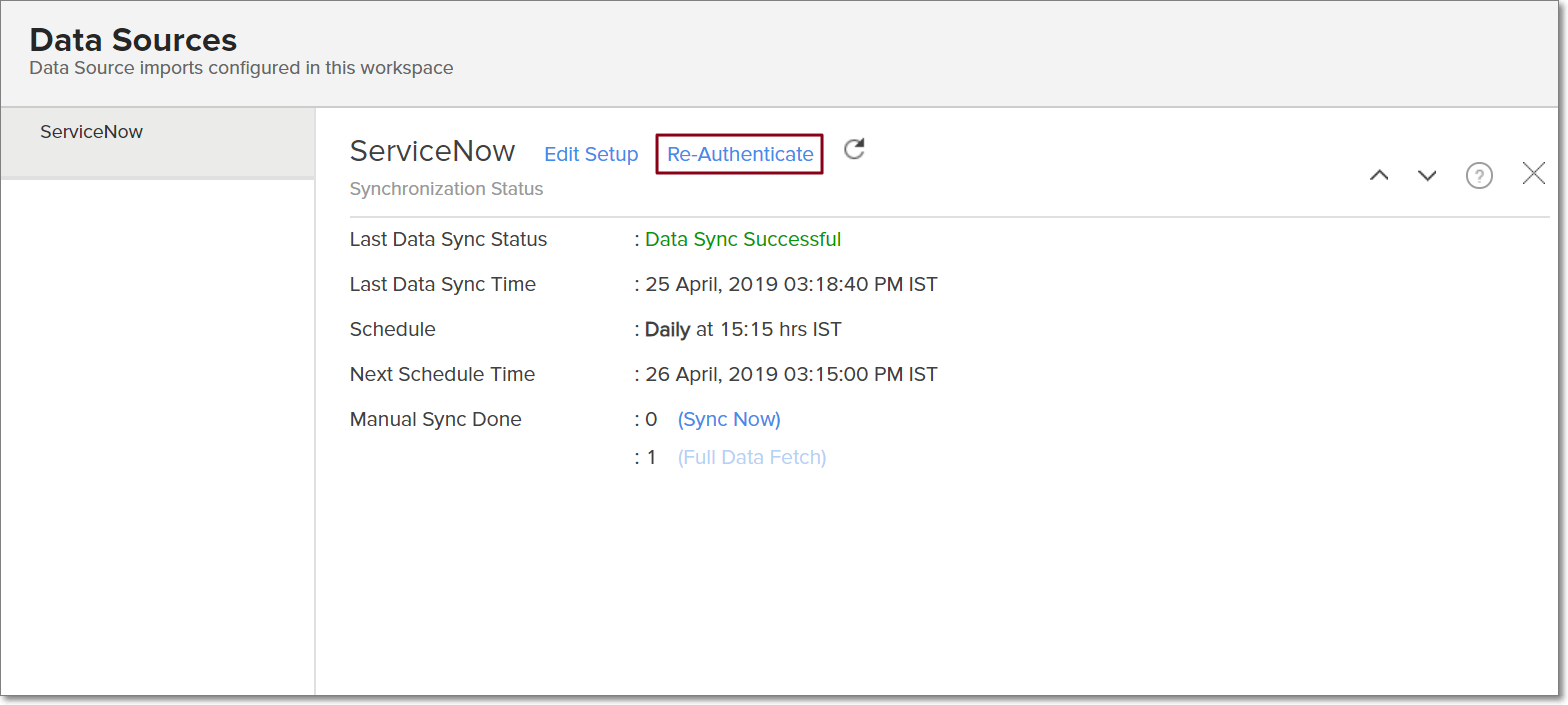 To change the modules that synchronize or alter the synchronization schedule, click Edit Setup option that appears on the Data Sources page.